THE MORGUE - MARCH/APRIL 1999
April 30, 1999 - Mark Edward Manes - Authorities announced that Mark Edward Manes, a 22-year-old former Columbine High student, will be charged with providing a TEC-DC9 semiautomatic handgun to Eric Harris and/or Dylan Klebold. A coworker at the local pizza parlor Eric and Dylan worked, Manes allegedly acted as a go-between with the weapons dealer.
Meanwhile students at Columbine resumed their studies at rival Chatfield High School. The building was decorated with signs and banners welcoming the students and teachers from Columbine. However, eight to 10 Columbine students -- described as associates and friends of Klebold and Harris -- have been excluded from Chatfield and asked to seek their education elsewhere. He said that was a decision made by school officials, not the sheriff's department.
April 30, 1999 - Barend Strydom - Simon Mukondoleli, a private investigator who became a South African hero after he stopped a 1988 shooting spree by a white extremist , was fatally shot by two men in downtown Pretoria. Mukondoleli intervened on November 15, 1988, when white extremist Barend Strydom began shooting passers-by in a square in Pretoria. Strydom, a former policeman, laughed as he shot to death six blacks nad an Indian man, and wounded 16 more. Mukondoleli, then a 32-year-old taxi driver, followed the gunman into a shop where he was reloading his weapon at a counter and disarmed him.
Strydom, self-appointed leader of a radical organisation he called the "Wit Wolwe", was convicted of eight murders and sentenced to death. Under a deal between the former government and the African National Congress he was granted amnesty in 1992, along with African National Congress bomber Robert McBride.
April 29, 1999 - Possible Vancouver Serial Killer - Vancouver's police board agreed to put up a $100,000 reward in connection with the 21 sex workers who have dissapeared from the city's eastside. The families of the missing women applauded police for acknowledging for the first time that the women could be victims of foul play. Since 1995, 22 "street-involved" women -- mostly prostitutes and drug addicts -- have gone missing. No bodies have been discovered and only one woman has been found alive, leaving 21 still missing. Friends and relatives of the missing women, who believe a serial killer may be responsible for the disappearances.
April 28, 1999 - Possible Brisbane Serial Killer - Australian Police investigating the disappearance of nine-year-old schoolgirl Keyra Steinhardt are considering the possibility of a serial killer stalking their city. Lead investigation Geoff Barton said police were keeping an "open mind" on whether there were links between Keyra's case and the disappearance of two women and a 14 year old girl in Rockhampton in the past four months. Police and homicide detectives in Brisbane believe both women were murdered, possibly by the same person. Queensland criminologist Paul Wilson said he could not comment on the Keyra Steinhardt case for legal reasons, but he believed a serial killer might have been involved in the disappearance of the two women and that of Natasha Ryan, a 14-year-old girl who has been missing from her North Rockhampton home for six months. "It's unusual for a teenage girl and two women to go missing in a small city in such a short space of time," Professor Wilson said.
April 28, 1999 - Canadian High School Copycat Killer - In the wake of the Columbine shooting, a 14-year-old boy toting a sawed-off .22-calibre rifle walked into the W.R. Myers High School in Taber, western Canada, and shot two 17-year-olds, killing one. The attack occurred around lunchtime. The shooter was identified as a ninth grade student who had dropped out and was being taught at home. "He said he's been really distressed," said student Matt Anderson. "He didn't have very many friends." Several students called gym teacher Cheyno Finney a hero for stopping the young gunman. "The shooter was tackled straight away, and the gun was taken out of his hand," said student Jordan Bareman.
Despite media reports that the Taber shooter was wearing a trenchcoat, several students said he was simply wearing the knee-length winter jacket he always wore. Taber is a farm town of 8,000 people in the western Alberta.
It was also revealed that just five days before the attack the Marine Corps rejected Harris as a recruit because he had been prescribed the anti-depressant Luvox, a drug generally prescribed to treat obsessive compulsive behavior. Adding inslut to injury, he also reportedly was turned down by a girl he wanted to take to the prom.
April 28, 1999 - Efren Saldivar - Glendale police announced they will begin exhuming the bodies of 20 people suspected of being victims of possible hospital killer Efren Saldivar. The former respiratory therapist confessed and later recanted having commited up to 50 mercy killings on terminally ill patients at Glendale Adventist Medical Center.
April 28, 1999 - Martin Bryant - Today marks the anniversary of the deadliest lone gunman massacre in history. Three years ago, on April 28, outcast-surfer Mark Bryant rampaged through the historic ruins of Port Arthur in Tasmania killing 35 people.
In response to the killings, Prime Minister John Howard led state governments to radically reform Australia's liberal gun laws. Bolstered by huge public support, the states banned all automatic and semiautomatic firearms and introduced stiff restrictions on licensing and registration. The government sought compliance with the new laws by offering to buy newly illegal guns from their owners. After a 17-month amnesty, Australians have disarmed themselves of more than 600,000 guns.
April 28, 1999 - Eric Harris & Dylan Klebold - In another example of too little too late, President Clinton proposed gun-control legislation that would raise the age for purchasing weapons legally from 18 to 21. Meanwhile, first lady Hillary Rodham Clinton, seemingly reeling from her husband's sexual addiction, talked about how children become desensitized and lose empathy for human life when their culture glorifies violence in music, movies and television shows. In a misguided effort to blame the media for the killing in Columbine, four members of Congress wrote a letter to ask Clinton to convene an emergency summit meeting at the White House with the leaders of the entertainment industry.
After a series of conflicting reports, investigators in Littleton said they are focusing on the three camouflaged teen-agers detained near Columbine High School were cleared of any involvement in the massacre. One of teens had been expelled from Columbine High School. Authorities tested them for gunpowder residue and found none. The Denver Rocky Mountain News identified the three men who were questioned as Matthew Christianson, Matt Akard and Jim Branetti. "We were just three punks with a lot of curiosity," Christianson told the Denver paper.
Dylan Klebold's girlfriend, Robyn Anderson, is now believed to have purchased three of the weapons used in the massacre -- two shotguns and a rifle -- at a gun show after her 18th birthday. The semiautomatic TEC DC-9 handgun has not yet been traced.
Jefferson County Sheriff John P. Stone disclosed that a school surveillance camera captured the attack in the cafeteria. The tape, that was handed to FBI investigators for analysis, captured the entire carnage in the cafeteria. It also showed the two gunmen trying to escape through three separate exits and being turned back by deputies' gunfire. According to the diary siezed in the home of Harris the teen killers planned to fly to Mexico or an island if they could escape, or kill themselves if they couldn't get out. Then again, they also planned to crash a plane into NYC.
Meanwhile funerals for three more victims -- Matthew Kechter and Kyle Velasquez, both 16, and Corey DePooter, 17 -- were held. The Velasquez services drew 800 mourners, including Gov. Bill Owens. Columbine teachers returned to work -- not at the heavily damaged high school, but a few miles away at Chatfield High. Starting next week Columbine students will return to classes also at Chatfield.
April 28, 1999 - Lorenzo Alvarado - Los Angeles police say two adults and two children who were found shot to death in a Crenshaw District apartment in an aparent family murder-suicide. Police say 16-year-old Lorenzo Alvarado killed his 40-year-old father, 36-year-old stepmother and 5-year-old stepbrother, then turned the gun on himself. The bodies were discovered at 9 a.m. when the teenager's 17-year-old brother and 10-year-old half sister returned home from school.
"Physical evidence at the scene indicated that the 16-year-old, found dead on the floor of his room with a revolver still in his hand, had shot and killed each of his three victims with a single gunshot wound to the head," said LAPD spokesman Jason Lee. "He had obtained the weapon about two months earlier and had additional rounds of ammunition in his pocket." Lee said the teen and his father "had been arguing recently over the son's flagrant use of marijuana inside the apartment. That looks like the motive."
April 28, 1999 - Glenda Jean "Jesse" Ray - A lawyer for Glenda Jean "Jesse" Ray said he expects more arrests in the New Mexico torture case. Billy Blackburn, Jesse's lawyer, said his client "vehemently, adamantly denies" she teamed up with her father to kidnap and sexually assault the woman. "The public defender's office is well aware of the fact that numerous individuals are going to be arrested on matters down in Truth or Consequences so they have contacted attorneys in preparation for that," Blackburn added. "I was called a couple of weeks ago."
April 28, 1999 - Possible Irish Serial Killer - Irish specialist teams have been searching the bogland in the midlands as part of Operation Trace, established to investigate the disappearance of six women from the greater Leinster area. Sources indicated that information from a convicted teenage prisoner from the midlands, currently in custody in Dublin, led to the searches. Operation Trace was set up to refocus the investigation into the disappearances of Ciara Breen, Jojo Dullard, Fiona Pender, Annie McCarrick, Fiona Sinnot and Deirdre Jacob.
In a separate development, Canadian serial killer Clifford Olson contacted authorities claiming to have information about the disappeared women. Olson, who was convicted in 1982 for murdering 11 children and young adults in a two-year period, said he held letters from an alleged accomplice in Dublin who had murdered five women. The letters purport to contain details of the murders as well as the burial sites. Detectives are sceptical, however, about the authenticity of the letters as all information received so far from Olsen could have been sourced from the Internet.
April 27, 1999 - Eric Harris & Dylan Klebold - The Denver Post reported today that investigators believe that Robyn K. Anderson, Eric Harris' girlfriend, legally bought two of the weapons used in the rampage at the Tanner Gun Showin Denver Authorities described Anderson as a witness, not a suspect. District Attorney Dave Thomas said she was cooperating with investigators. Prosecutors said the weapons may have been purchased legally.
Meanwhile, Mel Bernstein, owner of Dragon Arms, a gun shop in Colorado Springs, told investigators that four teen-age boys dressed in trench coats -- including Harris -- and a young woman came to his store in early March and tried to buy an M-60 machine gun and a pistol equipped with a silencer. He said he declined to sell the guns to Harris because he was too young.
Following the events in Colorado broadcasters are being urged to develop their own blueprints for covering big breaking stories, with an emphasis on doing everything to avoid putting lives in danger. Denver's KUSA-TV was criticized for broadcasting a cell phone conversation with a Columbine student before the massacre had ended. Critics said the caller's life could have been endangered if a gunman had heard where the student was hiding. Broadcasters should always assume that a hostage taker or terrorist has access to their reporting, the suggested guidelines say. And stations should not divulge police tactics or SWAT team locations.
April 27, 1999 - David Parker & Glenda Jean "Jesse" Ray - In the growing case of sexual torture in New Mexico, David Parker Ray and his 31-year-old daughter, Glenda Jean "Jesse" Ray were charged with kidnapping, sexual penetration and torturing a third woman. The new charges involve a woman who told police she was abducted by Ms. Ray and her father in June 1996, and sexually assaulted with objects for at least three days.
April 27, 1999 - Eric Harris & Dylan Klebold - Authorities announced that they discovered a diary kept by Eric Harris that showed the two rampagers had been planning their massacre for over a year. Not leaving anything to chance, the two killers had maps of the school and designed intricate hand signals to ensure a high body count. They apparently hatched their deadly plan shortly after four popular athletes and another student from Columbine High School were arrested for felony burglary but later were let go with merely a slap on their wrist. This preferrential treatment outraged the gunmen and, unlike their choice of music, movies or love for black trench coats, could prove to be a factor leading up to the massacre.
April 26, 1999 - Rex Allen Krebs - Identified as the prime suspect in the deaths of two college students in San Luis Obispo, Rex Allen Krebs says he's a monster and deserves to die. Jailed late last month on unrelated parole violations, Krebs has been linked by police to the deaths of Aundria Crawford and Rachel Newhouse, whose bodies were found in his property. "The two girls are dead. If I'm not a monster, then what am I?" Krebs said in an interview with The Fresno Bee at San Luis Obispo County Jail. He also apologized to the parents of the two women and told the newspaper he hopes to receive the death penalty.
April 26, 1999 - Texas Teenage Bombers - Police in Wimberly, Texas, arrested five teen-age boys on charges they plotted a bomb attack on their junior high school after gunpowder, crude explosive devices and bomb-making information were found in several of their homes Sheriff Don Montague said that the boys, all 14, began planning the attack in January. Last week's school shooting in Littleton, Colo, may have spurred acquaintances of the teens to tell school officials what they overheard, police said.
April 25, 1999 - Eric Harris & Dylan Klebold - Students, friends, relatives and up to 70,000 others -- including Vice President Al Gore -- turned a strip-mall parking lot into an arena of grief and promised each other they would reach past their pain. The outdoor ceremony was a mass catharsis where people hugged and wept as a parade of students, singers and public officials tried to make sense of the week's events.
Columbine Principal Frank DeAngelis called the gathering "the end of a nightmare." Religious leaders urged trust in God. And Gore, thundering like a preacher at a revival, underscored that such bloodshed must remain an aberration. "The young killers of Columbine High School do not stand for the spirit of America," Gore said. "America is a good and decent place, and our goodness is a light to all the nations of the world." Except, of course, Serbia, and Irak.
April 23, 1999 - David J. Lawrie - A Delaware man who fatally stabbed his wife and set a fire that killed three children was executed. David J. Lawrie, 37, confessed to the killings and did not request a pardon in the days leading up to his execution. He was pronounced dead at 12:17 a.m. after being injected with three drugs. "I would like to thank my family and friends for being by my side all the way," he said moments before his death. "I would not have made it this far without my family." Lawrie's last meal included two bacon cheeseburgers, french fries, and a chocolate milkshake.
On August 6, 1992, After his estranged wife filed for divorce, Lawrie walked to their house, doused it with gasoline and set it ablaze. He then broke into a bedroom where Mrs. Lawrie, their daughters, and two children Mrs. Lawrie was babysitting were hiding, stabbed Michelle Lawrie in the chest, and escaped through a window. Only Lisa Humbertson, then 8 years old, survived. She testified that Michelle Lawrie handed her out the window to her estranged husband, but when Mrs. Lawrie tried to escape, he shoved her back inside.
Her 3-year-old brother, Charles Humbertson, and two of the Lawries' children, 4-year-old Fawn and 2-year-old Tabitha, died in the fire along with Mrs. Lawrie. Lawrie was convicted of four counts of murder and sentenced to death on July 8, 1993.
April 23, 1999 - Brian Hunt - A man accused in a Lee County murder is now linked to two deaths in Tennessee. Brian Hunt was arrested over the weekend, accused of stabbing a homeless man in Bonita Springs. Police in Tennessee found two bodies over the past two days in an area where Hunt used to live. Hunt has a lengthy record. He served four years in jail for killing a man in Lee County in 1992.
A homeless man accused of killing a Bonita Springs man last weekend and who served time for killing another Lee County man in 1992 is now a suspect in two slayings in Tennessee and is being investigated for a possible connection to a homicide in Delaware. While in the Lee County Jail earlier this week, Brian Alpress Hunt, 49, drew two maps that led Nashville police to the skeletal remains of two men who were apparently beaten to death in summer 1996 in separate incidents, authorities said.
The revelation comes less than a week after Hunt was accused of stabbing Franklin C. Boyd in the chest 19 times after an argument over money and then beating him over the head with a cement block. Both victims are believed to have been homeless and may have been killed months apart. Authorities weren't releasing the names until they had a chance to notify relatives.
Aaron said that before Hunt's statement to Lee investigators, police were not aware the men had been missing.
In 1992, Hunt was charged with using a wine bottle to beat to death Jacko Poppele, a 44-year-old Bonita Springs man. He was convicted of manslaughter and was sentenced to four years in prison.
April 23, 1999 - Rex Allen Krebs - Human remains have been found on the property of a convicted rapist who has become the "sole suspect" in the deaths of two missing college students in San Luis Obispo. Rex Allen Krebs, a 33-year-old registered sex offender, has not been arrested for crimes related to the cases of the dead women. Instead, he has been in custody since March 20 on possession of a simulated weapon and alcohol -- both parole violations. Police say murder charges are imminent.
April 23, 1999 - Keith Scavo - Accused triple-killer Keith Scavo brushed aside his court-appointed lawyer at the start of his trial and indulged in a rant to the jury against the many forces he said were arrayed against him, including the National Organization for Women. After Assistant District Attorney Arlene Fisk outlined how Scavo, 42, of South Philadelphia, shot and killed his former mother-in-law, his ex-wife and her new boyfriend - and wounded his 3-year-old daughter on Palm Sunday, March 23, 1997,
Scavo stood by the defense table and softly told jurors he is the victim of a conspiracy among police, the district attorney's office and NOW, which he described as "a subversive organization." When Fisk objected, Common Pleas Judge David N. Savitt told jurors "the National Organization of Women is not on trial here."
"I have a right to uncover any conspiracy against me," Scavo then said.
Savitt told Scavo he could present anything "relevant to your defense."
"The charges against me are false," said Scavo, who accused the prosecution of planning to present perjured testimony by his former father-in-law, who witnessed the slayings. Scavo accused the witness of trying to "kidnap my daughter."
April 23, 1999 - Eric Harris & Dylan Klebold - The Denver Rocky Mountain News released what is believed to be a suicide note sent via e-mail to police. Authorities at first took the note seriously, then said there was little reason to believe that was written by either Eric Harris or Dylan Klebold. Here's the text:
By now it's over. If you are reading this my mission is complete. I have finished revolutionizing the neoeuphoric infliction of my internal terror. Your children who have ridaculed (sic) me, who have chosen not to accept me, who have treated me like I am not worth their time are dead. THEY ARE (expletive) DEAD. Surely you will try to blame it on the clothes I wear, the music I listen to, or the way I choose to present myself -- but no. Do not hide behind my choices. You need to face the fact that this comes as a result of YOUR CHOICES. Parents and Teachers, YOU (expletive) UP. You have taught these kids to be gears and sheep. To think and act like those who came before them, to not accept what is different. YOU ARE IN THE WRONG. I may have taken their lives and my own -- but it was your doing. Teachers, Parents, LET THIS MASSACRE BE ON YOUR SHOULDERS UNTIL THE DAY YOU DIE. Am I insane? Maybe. Is it my fault? No. I did not choose this life, but I have indeed chosen to exit it. You may think the horror ends with the bullet in my head -- but you wouldn't be so lucky. All that I can leave you with to decipher what more extensive death is to come is "12Skizto." You have until April 26th. Goodbye.
April 23, 1999 - Trenchcoat Mafia - Jose Troche, in what seems to us to be a rush for publicity, registered trenchcoatmafia.net and trenchcoatmafia.org, to "keeps out of the wrong hands." Not surprisingly minutes earlier, someone registered the name trenchcoatmafia.com. Troche, who owns a beeper company, said he wanted to prevent others from making money off the 'trenchcoatmafia' name. He said two people interested in buying the Web addresses have already approached him. He claimed one man offered $30,000 and another offered $35,000.
In related news, the mayor of Denver cancelled an upcoming Marilyn Manson concert because of the tragedy. In the same breath, the mayor did not feel any need to cancel the upcoming NRA convention that will be held in Denver.
April 22, 1999 - Charles Ng - Charles Ng's defense closed its case with tears from the serial killer's mother and a plea to jurors to spare his life. Oiping Ng told jurors she carries a burden of guilt for failing to stop the ferocious beatings her husband inflicted on Charles when he was a child. "When my husband was hitting Charles so fierce I didn't know what to do," said Mrs. Ng. "Maybe we did not know how to teach Charles properly."
April 22, 1999 - Eric Harris & Dylan Klebold - It's day two post rampage at Littleton, Colorado, and the saturation press coverage continues leaving no stone unturned. One large incendiary device rigged with a barbecue propane tank was found in the school kitchen leading authorities to believe that other suspects may have helped Harris and Klebold. "We are seriously looking into the possibility that there were more than two involved because of the amount of bombs, ammunitions and the complexity," Sheriff John Stone said.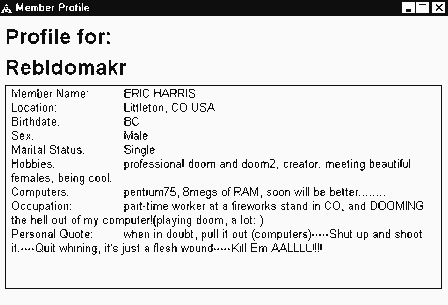 April 21, 1999 - Eric Harris & Dylan Klebold - Authorities identified the two gunmen in the Columbine High School massacre as Eric Harris, 18, and Dylan Klebold, 17. After a night of securing the crime scene, authorities changed the number of dead to 15, including the two gunmen, and 24 wounded. Police said the attackers carried two shotguns, several handguns and a carbine rifle. News outlets nationwide alternately blamed the Internet, the computer game Doom, Goth Rock, Marilyn Manson, "Natural Born Killers," "The Basketball Diares," and the German industrial metal band Rammstein for the carnage. Not surprisingly several fake Trench Coat Mafia website popped out of nowhere and some were featured in leading news programs.
April 21, 1999 - Ted Kaczynski - An attorney for Teddy K. said he won't seek a new trial for the Unabomber. University of Virginia law professor Richard J. Bonnie said he met with Kaczynski, who believes he was unfairly coerced into pleading guilty, and told him that filing the motion "would not be the best avenue for achieving his goals and that I would not be filing the motion." However, Bonnie expects cranky ol' Ted to file his own motion for a new trial by May 4, the deadline.
April 20, 1999 - Li Yuhui - China's state news agency reported that Li Yuhui, a fortune teller, was executed in the city of Shantou for the cyanide killing of three women and two girls in Hong Kong. The agency did not say how Li was killed, but China executes most criminals by a single gunshot.
April 20, 1999 - Charles Ng - The father of serial killer Charles Ng said he beat his son when he was a child because he thought it would help him learn. "I tried to bring him up right," Kenneth Ng testified in Chinese-accented English. "Unfortunately, I use the wrong way. I think this is normal. But now I know how wrong I am." The 69-year-old daddy dearest choked back tears at times as he told how his wife and his daughters sometimes tried to intercede to stop him when he tied up his son's hands and beat him with a stick.
Kenneth Ng said his wish was to give his children the education he did not have and to get them into the best schools in Hong Kong, where he still lives. "I keep asking myself, 'Why did we try to give them the best and teach them good if they come out like this?' I don't understand." Ng added, "Our family feels very ashamed too and we feel very sorry about it." Several times he said he felt sorry for the families who lost their children and siblings in the murder spree.
April 20, 1999 - 25 Dead in Colorado High School - Two students dressed in black trench coats, fatigues and sky masks opened fire in a suburban high school in Littleton, Colorado, leaving up to 25 people dead. At least 19 others were wounded, with five in critical condition. Jefferson County Sheriff John Stone said the killer teens appeared to be in a "suicide mission." The mayhem started at 11:30 AM, when half of the student body at Columbine High School was in their lunch break, until four hours later when the two rampagers were found dead in the library from apparent self-inflicted gunshot wounds.
A third suspect was led away from the school in handcuffs. It is unclear what was his role in the rampage. Three more youths wearing black were stopped by police in a field near the school. Though the youths were not involved in the shooting, authorities said they were friends of the killers.
April 20, 1999 - Charles Ng - Defense attorney William Kelley replayed videotapes of Ng threatening two women with rape and death to explain, with the help of witness psychologist Abraham Nievod, Ng's role in the captivity scheme. Nievod insisted that Ng was doing Lake's bidding throughout and was trying to mirror the behavior of the man who had become his role model. According to the expert psychologist, Ng showed signs of being schizoid and a typical dependent personality who would do the bidding of more powerful people. Nievod repeatedly characterized Ng as a person so dependent on others that he could not function without a controlling force in his life.
April 19, 1999 - Charles Ng - A juror who was dismissed from serial killer Charles Ng's murder trial last week returned to the courtroom and said she plans to sit through the rest of the penalty phase to see how it turns out. Lynne Glenn, 50, said she is angry that she was removed from the panel after spending more than six months on the case and maintains she did nothing wrong. She said she made a comment to a prosecution investigator about his tie and discussed her own shoulder surgery with him but nothing more. "Can we not acknowledge anybody's existence just because we're on the jury?" she asked.
April 19, 1999 - David Parker Ray - A body weighted down with two boat anchors found floating in Elephant Butte Lake in 1989 with a bullet wound to the head worked at the same car lot as sex-torturer David Parker Ray, an FBI official says. On September 25, 1988, the man, identified as Billy Ray Bowers, disappeared from a Phoenix car repair shop where he worked with Ray. Police wouldn't comment on whether the death is related to the sex-torture case.
April 18, 1999 - Spokane Serial Killer - The former manager of a Spokane apartment building where human bones were found was questioned by detectives in the disappearance of a woman in 1993. Stanley Pietrzak was one of the last people seen with Michelle Wright before she disappeared in October 1993, the woman's mother said. Wright lived with Pietrzak in Spokane during the week before her disappearance. A police source confirmed Saturday that Pietrzak was investigated in the case. He was never charged, the officer said.
Pietrzak served as manager of the Helen Apartments, where the incinerated bones were found, from about November 1997 to October 1998. Tenants have linked Pietrzak to another woman who disappeared several months ago after visiting him frequently at the Helen. Police could not immediately confirm those reports. According to residents, Pietrzak also talked of converting a walk-in freezer in the basement into a "torture room."
Pietrzak, 44, was sentenced to a year in jail after pleading guilty to one count of communication with a minor for immoral purposes. He admitted having sex with a 16-year-old girl and taking pictures of her while she was naked.He also has a conviction for first-degree child rape in 1990 and is labeled by state officials as a Level III sex offender, considered the most likely to commit more sex crimes.
April 18, 1999 - Grenade Attack in Congo - A grenade launched onto a high school soccer field killed seven children and injured 13 others in a suburb of Brazzaville, the capital of the Republic of Congo. A police statement said several seriously injured children, all aged 10 to 15, had to have arms or legs amputated after the attack, which took place next door to Brazzaville's university hospital. Though the Republic of Congo has been racked by a civil war, police said this assailant intentionally targeted the children.
April 17, 1999 - Charles Ng - The Sacramento Bee, the Los Angeles Times and the Orange County Register asked the 4th District Court of Appeal to order Superior Court Judge John J. Ryan, who is presiding over the Charles Ng trial, to release the transcripts of a closed-door hearing that ended with the judge citing Calaveras County district attorney's investigator Mitch Hrdlicka for "prosecutorial misconduct" and dismissed a juror. The three papers also asked the appellate court to order the judge to refrain from closing future trial court proceedings unless the public is given a chance to challenge its exclusion.
April 17, 1999 - Spokane Serial Killer - Officers in Spokane investigating a woman's disappearance found partially burned human bones in the furnace of a downtown apartment building. Police haven't determined if the bones are those of the missing woman, who lived what police call a "high-risk lifestyle" and fits the profile of 10 victims of a presumed serial killer. Despite the similarities, investigators don't believe the bones are those of a serial killer victim.
In related news, police said they consider a Spokane doctor a "person of interest" in relation to the their serial killer investigation. Detectives, who suspect Dr. Joseph S. Taylor of having kidnapped and raped a downtown prostitute, searched the doctor's house and his sport-utility vehicle. They seized bed sheets, pillows and a 9mm pistol in their raid on the house at 3711 E. 49th Avenue, according to an affidavit of probable cause filed in District Court. Investigators also searched for fingerprints and looked for hair samples in Taylor's red 1990 Toyota 4Runner. Taylor, 35, hasn't been arrested in the reported rape and has been ruled out as a suspect in the serial killings.
April 16, 1999 - Sergei Babarin - Police identified 71-year-old Sergei Babarin as the shooter at the Mormon Family History Library that left two poeple dead. Babarin, who is mentally ill, told his son before the shootings that the television coverage of the NATO attack in Kosovo reminded him of his wartime youth. Though the son tried to get the Russian emigre hospitalized, the Valley Mental Health center did not admit him because doctors there did not diagnose him with schizophrenia.
April 15, 1999 - Terry Nichols - The attorney for Terry Nichols said that information given to them near the end of his Oklahoma City bombing trial contained enough leads about another suspect to warranted a new trial. "Government counsel argued that Mr. Nichols mixed the bomb and that he was with Mr. McVeigh for long periods on April 17 and 18," attorney Michael Tigar noted. "The withheld evidence contradicts this key government theory." During Nichols' trial, defense attorneys sought to show others were involved by calling witnesses who said they saw McVeigh with an unknown suspect identified as John Doe No. 2 or other people during key periods.
April 15, 1999 - Shawn Cooper - A high school sophomore in Idaho fired two shotgun blasts in a school hallway before he began babbling incoherently and was taken into custody. No one was injured. Shawn Cooper, 16, was taken into custody after he dropped the .12-gauge semiautomatic shotgun he had brought from home on the bus, wrapped in a blanket.
April 15, 1999 - Mormon Library Rampage - Two people were killed and four others were shot by a gunman who entered the Mormon church's Family History Library in Salt Lake City and began firing before being fatally wounded by police. Mayor Deedee Corradini told reporters that a library security guard and a female patron had died of their wounds and the unidentified suspect had also died. The gunman, who had exchanged gunfire with police, was taken out of the building to a Gold Cross ambulance parked in front of a nearby restaurant, but paramedics believed he might be wired with an explosive and the area was evacuated. He died in the ambulance and police Sgt. Ken Hansen said he had no explosives.
April 15, 1999 - Spokane Serial Killer - Law officers seeking a serial killer searched a home in an affluent area of Spokane's South Hill, but declined to link the search to the slayings. The search was related to the kidnap and rape of a woman in downtown Spokane in February, Spokane County sheriff's spokesman Dave Reagan said. "There is nothing at this time that links it to the serial killings," Reagan said. "But rather than hand off to another detective and spoil rapport with the source, they thought it appropriate to follow it up."
April 15, 1999 - Paul Reid - It took a jury from Knoxville only three hours to convict Paul Reid on all counts in the Captain D's murder trial. Reid was convicted yesterday on two counts of premeditated murder, two counts of felony murder in the deaths of Steve Hampton and Sarah Jackson, and one count of aggravated robbery. Reid hung his head as the verdict was read.
April 14, 1999 - Charles Ng - During the penalty phase for his trial Charles Ng's lawyers tried to depict their client as a caring and loving man. According to several of his friends brought to the stand, the evercaring Charlie offered consolation to them in times of grief and sent them gifts and artwork from prison.
April 13, 1999 - Wayne Adam FordThe attorney for alleged serial killer Wayne Adam Ford entered an innocent plea for his client, then abruptly withdrew it after Ford became agitated. Defense attorney Kevin Robinson then asked for the week's continuance to confer with his client.
April 13, 1999 - Dr. Jack Kevorkian - Judge Jessica Cooper sentenced Dr. Jack Kevorkian to 10 to 25 years in prison for the videotaped death of one of his patients. Dr. Death was also sentenced to three to seven years for delivery of a controlled substance.
April 13, 1999 - Marion Pruett A man who murdered five people after entering the federal witness-protection program was executed in Arkansas for the 1981 slaying of a convenience store clerk. Marion Albert Pruett, 49, asked God and his victims for forgiveness, then closed his eyes as he was injected. "I would also like to ask all the people that I ever hurt, and their family members, to forgive me for all the pain," he said. "And I forgive everybody for what's about to happen to me."
April 13, 1999 - Michael Carneal In another case of blaming it on the movies the parents of three students killed during a shooting spree at a Kentucky high school are claiming that media violence inspired the boy who fired the shots. The parents announced their intent to file a $130 million lawsuit against two Internet porn sites, several computer game companies and the makers and distributors of the 1995 Leonardo di Caprio vehicle, "The Basketball Diaries."
The lawsuit claims that confessed shooter Michael Carneal, a 14-year-old freshman at Heath High School at the time of the shootings, was influenced by the violence in "The Basketball Diaries" and by several violent computer games such as "Doom," "Quake," and "Mortal Combat." The suit also claims Carneal shootings, was an avid computer user who logged onto Internet porn sites to view sexually violent material.
April 13, 1999 - Charles Ng A magnitude-3.4 earthquake rattled nerves during Charles Ng's penalty phase hearings. The quake, which was not an aftershock, was centered three miles south of Fountain Valley, according to Caltech seismologist Karen Kahler. Always alert, Judge John Ryan called out "earthquake" when the shaking started and told nervous jurors not to worry.
April 13, 1999 - Denise Buchanan - The fate of a Reno mother accused of killing her three children now rests with a jury. Prosecutors claim Denise Buchanan murdered the three youngsters between 1989 and 1994. KRNV-TV reports investigators had first thought the children died of Sudden Infant Death Syndrome, but now say the chances of SIDS claiming all three siblings are too great. If convicted, Buchanan could be sentenced to life in prison without possibility of parole.
April 13, 1999 - Mathew Beck The Pulitzer Prize Board cited Connecticut's Hartford Courant newspaper for its detailed coverage of the shooting rampage of Matthew Beck at the state lottery that left five people dead, including himself. A spokesman for the Courant said the newspaper will donate the financial award to a fund set up for children of those killed in the shootings.
April 12, 1999 - Charles Ng - Charles Ng says he is resigned to the probability that he will be given the death sentence for 11 counts of murder. In an interview with the Los Angeles Times, Ng says he has become a "sacrificial lamb" in the case, and he will probably be given the death penalty even though Leonard Lake (or so he claims) did all the killing.
Meanwhile he passes the time reading and doing his origami, which he was allowed to do again after jail authorities banned it for years over concerns about contraband. When asked what he thought of his prospects, Ng paused, traced his fingers around the cold metal table and said "Life without parole is a slow death, and execution is death on their time, on their terms."
April 10, 1999 - Sipho Agmatir Thwala - Six relatives of South Africa's Phoenix serial killer are living in fear at a police station after members of their community burnt down their house and threatened to kill them. The mother, sister, three nieces and nephew of serial killer Sipho Agmatir Thwala said they are too scared to venture out of KwaMashu police station in Durban, where they have been holed up for the last two weeks.
April 10, 1999 - Fernando Hernandez Leyva Confessed serial killer Fernando Hernandez Leyva attempted to hang himself in his jail cell in Mexico City. Hernandez Leyva, who weighs about 300 pounds used a rope to try and hang himself from cell bars, but the rope broke and he suffered only abrasions on his neck. A police psychological exam of suspect released earlier concluded that Hernandez Leyva is a "psychopath" who murdered for "personal satisfaction."
April 10, 1999 - Dennis Roy Yancy - An associate of Ray and Hendy, Dennis Roy was charged with murder, kidnapping, conspiracy to commit both murder and kidnapping and evidence tampering. Allegedly Dennis Roy Yancy confessed to law enforcement officials to strangling Marie Parker in July 1997. Parker, a single mother whose two daughters are now living with her mother in Albuquerque, was last seen at the Blue Water Saloon in Elephant Butte.
April 9, 1999 - Cardale Henry & David Lamb - Detroit Police announced murder warrants against two armed robbery convicts they say were responsible for the Prestige Barbecue massacre. Cardale Henry, 29, a former employee of the restaurant, and David Lamb, 30, were charged with four counts of felony murder, four counts of premeditated murder and use of a firearm in a felony. Lamb, worked on and off at the restaurant for several years, had recently been released from prison after an armed robbery conviction. He was charged as an habitual offender. Henry also has a previous armed robbery conviction.
April 9, 1999 - Pierre Lebrun - According to police, Lebrun left a suicide note at his home listing seven colleagues, four of whom he had problems with. But as fate would have it, the four people he killed were not on his list. "His intentions were very clear. From that letter, one could surmise that he was intending to cause very serious harm or death. It is our view that he had intentions to shoot far more people than he had the opportunity to do," said Inspector Ian Davidson.
April 9, 1999 - Oscar Ray BolinSerial killer Oscar Ray Bolin's third murder re-trial for a series of Tampa Bay-area killings ended with jurors again finding him guilty of the first-degree murder. The Florida Supreme Court overturned Bolin's first three convictions because of testimony that was then allowed from Bolin's now-deceased ex-wife. Bolin was sentenced to death in all three cases, as he has again in the first two re- trials.
April 7, 1999 - Mitchell Johnson & Andrew Golden In reaction to the sentences of Jonesboro middle school killers Mitchell Johnson and Andrew Golden, Arkansan Governor Mike Huckabee signed a new law in which children of any age who are convicted of first-degree murder can receive adult punishment, including life in prison, but not the death penalty. Jonhson and Golden, 13 and 11 at the time of the shootings, were sentenced to a juvenile detention center for killing four students and a teacher, and must be released by the time they turn 21.
April 7, 1999 - Chevie Kehoe - Gloria Kehoe, the mother of a man accused in a murderous plot to set up a whites-only country, testified that her son once told her about killing a gun dealer and his family. Chevie Kehoe, of Colville, Washington, bragged to his mom that he put the victims on "a liquid diet" by tossing their bodies into a bayou.
April 7, 1999 - Possible Vancouver Prostitute Killer Disagreeing with city's police department, Vancouver's mayor Philip Owen wants to post a reward to help find the 20 missing Vprostitutes. He made the statement hours after Vancouver's police spokeswoman said the department opposes the idea of a reward.
April 7, 1999 - Ciudad Juarez Bus Driver Killers & Fernando Hernandez Leyva - Something is roten in the air in Mexican justice. The recently arrested four bus drivers accused in slaying 190 women in Ciudad Juarez, said they were beaten into confessing. Simmilary, in Cuernavaca, Fernando Hernandez Leyva -- who was charged with killing 137 people -- said police beat him and threatened to rape his wife and take away his children unless he confessed to all 137 killings.
April 7, 1999 - Michael RossJury selection began for Michael Ross' retrial of the penalty phase of his case. The justices said the original jury wasn't told about evidence that could have proven Ross suffered from a mental illness, which is considered a mitigating factor that under Connecticut law it could have been used to spare him from the death penalty.
April 7, 1999 - Gary Beach - The 56-year-old limousine-driving mass murderer was charged with first-degree murder for one of the five bodies found decomposing in his house. The rational type, Gary left behind a handwritten card listing the names of the dead and how they could be identified. Gary was charged in the death of his step-nephew, 45-year-old Kenneth Gulley, who was shot in the face. Beach was captured without a struggle at a hotel parking lot just five blocks from the crime scene after he called Kenny's brother and said: "Tell that (expletive) nephew of mine he is next. Tell him I am going to get him."
April 6, 1999 - Oscar Ray BolinJury selection continues in a Tampa courtroom today in the murder retrial of reputed serial killer Oscar Ray Bolin. Bolin is being retried for the murder of Tamapa high school senior, Stephanie Collins. The Florida Supreme Court overturned Bolin's original convictions, and death sentences, in this and two cases, because of testimony allowed from Bolin's ex- wife, who has since passed-away.
April 6, 1999 - Pierre Lebrun - A disgruntled former transit worker compiled a list of co-workers he didn't like before setting out on a deadly rampage, killing four employees and then himself at Ottawa's main bus garage. The man, identified as Pierre Lebrun, opened fire at transit workers with a high-powered rifle in what police described as a premeditated attack. In addition to the dead, two workers were injured by Lebrun, who fired nine rounds of ammunition and was carrying 36 more rounds.
April 5, 1999 - Paul Dennis Reid - Jury selection is underway in Knoxville in the murder trial for accused serial killer Paul Dennis Reid. Reid will stand trial for allegedly killing two employees at a Captain D's restaurant in Donelson in February, 1997. He's also charged with the murders of three McDonald's employees in Hermitage and two Baskin Robbins workers in Clarksville.
April 5, 1999 - Gary Beach - Five decomposing bodies were found in a Kansas City home, and police were searching for the 56-year-old man who lived there. When asked whether the man, Gary Beach, was a suspect, police spokesman Floyd Mitchell said, "We're concerned about his well-being." Three of the bodies were found on the main floor and two in the basement of the one-story home, located near the city's Westport entertainment district. Police said the bodies had not been identified, and the cause of death had not been determined. Capt. Jerry Gallagher said the air conditioning was running when police first arrived at the home, making it harder to determine how long the bodies had been decomposing.
April 5, 1999 - Possible Vancouver Prostitute Killer - Prostitutes in Vancouver's poorest neighbourhood are being invited to record personal details on registries that would give police clues if the women are kidnapped or killed. The move comes amid fears a serial killer is stalking the downtown eastside region of Vancouver where 20 sex-trade workers have disappeared since 1995 -- 11 of them in the last year alone. Two agencies dealing with prostitutes recently launched the voluntary registries, an idea blessed by police even though the discard the idea of a serial killer on the loose.
April 5, 1999 - Detroit Restaurant Massacre - Police identified the victims as in the Detroit restaurant as owner Jamal Akrawi, 49, his 12-year-old son Tommy, both of Oak Park; Akrawi's older brother, Abed Akrawi, who was visiting from Iraq; and cook Paul Scott, 19, a high school senior from Detroit. Police said there were no signs of forced entry, and speculated that the killer or killers entered the restaurant about the time it closed at midnight Saturday. The restaurant appeared to have been ransacked and the day's take was missing.
April 4, 1999 - South African Serial Killer Team - Authorities believe they have discovered South Africa's first case of a pair of serial killers working together. Between February 1997 and January 1998, five young girls, all aged six, were murdered in Finetown, Orange Farm and Evaton, south of Johannesburg. Almost all had been horribly mutilated by their killers. And in March last year a child's ribcage and intestines were found. Detectives on the case believe the remains belonged to another unknown victim. The pattern of the attacks has suggested to police that they are facing the unusual combination of two serial killers working as accomplices.
April 4, 1999 - Four Dead In Detroit Eatery - Three employees of a barbecue restaurant in Detroit and a child were found dead Easter Sunday inside the restaurant. Officers were called to the Prestige Restaurant at about 7:30 a.m. and found victims "throughout" the place. All were shot execution-style in the back of their heads. No arrests had been made.
April 4, 1999 - David Ray & Cindy Hendy - Police in Elefant Butte, New Mexico, confiscated a 20-ft storage trailer that was outfitted into a torture chamber with sound-proof walls, a gynecological chair, books on anatomy and serial killing, torture videos, photographs, crododile clips of various sizes and other implements of torture.
About 45 FBI agents and as many as 35 New Mexico State Police and Public Safety officers continued to collect evidence against David Parker Ray and Cindy Lea Hendy. They also chased more than 100 leads in New Mexico, Arizona, Texas and, Ciudad Juarez. Investigators brought in a "cadaver-trained dog," to search the site.
Authorities said homicide remains a distinct possibility. They said there may also seek additional suspects. "Rather than narrowing the leads down, the leads are expanding," Agent Beldon said. "I'm optimistic we know considerably more about the suspects to date, as well as other related things. There is a very real possibility of additional suspects."
April 4, 1999 - David Mulcahy - A 39-year-old man has been charged with the rape and murder of three women who were killed near railway stations in or around London in the mid-1980s. David Mulcahy, 39, from Kentish Town, north London, was also charged with seven rapes, five counts of conspiracy to rape and one count of possessing an imitation firearm. Mulcahy was arrested and charged following a joint investigation by Hertfordshire police, Scotland Yard and British Transport Police.
April 4, 1999 - Hannibal Lecter - Thomas Harris just turned in the manuscript of his new book about fiction's most famous cannibal, Hannibal Lecter. The on-sale date of the new novel, itled "Hannibal," will be June 7th. Furthermore, there is already talk about reuniting Jodie Foster and Anthony Hopkins for reprisals of their Oscar-wining performances. Now, were is the Chianti?
April 4, 1999 - Michael Ross - Connecticut's most notorious serial killer, Michael Ross is going on trial again. Jury selection will begin in the penalty phase of a trial that began in 1987 but has followed a circuitous route through the legal system with various appeals. Superior Court Judge Thomas Miano, who was assigned to hear the case only two years ago, has warned the attorneys against further delays and has vowed to bring the case to an end.
April 2, 1999 - Jesus Manuel Guardado Marquez - Prosecutors have arrested four more men in connection with the murders in Ciudad Juarez. Police said the arrests were based on information given by Jesus Manuel Guardado Marquez, aka "El Dracula," who was arrested on charges of raping and attempting to murder a 14-year-old girl aboard his bus in June. He reportedly gave police the names of as many as eight men who may have been involved in the attacks. It appears that the men arrested are, like Marquez, bus drivers. "The belief is that together, they assassinated several young women," said Fernando Medina, spokesman for the state of Chihuahua.
April 1, 1999 - Anatoly Onoprienko - The worst serial killer in Ukraine's modern history was sentenced to death for killing 52 men, women and children. It took a judge nearly two days to complete reading the long, detailed verdict describing Onoprienko's crimes. Onoprienko, wearing his trademark running shoes and an oversized jacket, waited impassively in an iron cage, his eyes almost never leaving the floor. Onoprienko's accomplice in the first nine murders, Serhiy Rogozin, 36, was sentenced to 13 years in prison.
"I've robbed and killed, but I'm a robot, I don't feel anything," Onoprienko said in a prison interview with Associated Press. "I've been close to death so many times that it's even interesting for me now to venture into the afterworld, to see what is there, after this death."
April 1, 1999 - Jesus Manuel Guardado Marquez - Police arrested bus driver Jesus Manuel Guardado Marquez in connection with the murders of six women. Marquez, 26, known as El Dracula, said he was innocent and eight other bus drivers are the real killers. State prosecutors originally said El Dracula confessed, but the suspect later protested in court papers that the confession had been beaten out of him. "We're not going to use this man as a scapegoat," a spokesman for the prosecution said. Authorities were now searching for the other bus drivers who were suspects.
Police said Guardado admitted having sex with the teen-ager who accused him of rape but said it had been consensual. Another victim had come forward, saying she too had been raped by Guardado. One of the women Guardado is accused of killing was Cargrario Gonzalez Lopez, 17, whose body was found in 1998 in a remote area in northwest Juarez. Police said Guardado admitted having sex with her but identified another bus driver as her killer.
April 1, 1999 - Arthur Goodman - The 19-year-old man suspected of killing his girlfriend and three others was shot to death by police after aiming a handgun at officers. Arthur Goodman was shot in the back seat of a white Mercury Cougar that had been pulled over on Interstate 35. Three other people, including Goodman's 16-year-old brother -- were in the car at the time of the shooting. They were questioned by police and it is unclear whether they were taken into custody.
March 31, 1999 - Sipho Agmatir Twala - A Dunbar judge sentenced convicted serial killer Sipho Agmatir Twala to 506 years in prison after he was found guilty of 16 slayings and other charges. Twala, 31, showed no remorse for his crimes. He was also found guilty of one charge of attempted murder, seven of indecent assault and three of rape.
March 30, 1999 - Robert Excell White - The longest-imprisoned death row inmate in Texas, 61-year-old Robert Excell White was executed by lethal injection for using a stolen machine gun to kill a rural grocery store owner, one of four people slain during a crime spree almost 25 years ago. Nicknamed "Excell the Executioner" by police, White's final words were, "Send me to my maker, warden."
March 30, 1999 - David Ray & Cindy Hendy - Dozens of FBI agents, including psychological "profilers," converged on a trailer home in Elephant Butte, New Mexico, to gather evidence in a case of sexual torture and possible multiple murder. The case began to unfold when a woman escaped from the home of David Ray and Cindy Hendy wearing only a padlocked metal collar attached to a chain.
March 30, 1999 - Terry Nichols -Oklahoma City bombing conspirator Terry Nichols -- already serving a life prison term after being convicted in federal court in Denver -- has been charged with 160 counts of murder by state prosecutors who have vowed to seek the death penalty. Oklahoma prosecutors are vying for a state trial for convicted bomber Timothy McVeigh, but decided to try Nichols first and wait to see how McVeigh fares in the appeal of his federal death sentence.
March 30, 1999 - Fernando Hernandez Leyva - Suspected serial killer Fernando Hernandez Leyva was transferred to a state prison after crowds of victims' families in Cuernavaca called for his blood. "We want to lynch him," said Joel Uribe Landa, one of about 50 people gathered outside the Morelos state prosecutors' office, where Hernandez Leyva, who confessed to more that 100 murders, was taken for questioning before being transferred to the state prison.
March 28, 1999 - Arthur Goodman - A 19-year-old man from Abilene, Texas, was charged with killing his girlfriend and three of her friends -- possibly because she refused to help him conceal a crime. Authorities are still hunting for Arthur Goodman and his 16-year-old brother, who may have been with him when the shootings occurred.
March 28, 1999 - Operation Enigma - Scotland Yard's Operation Enigma, in which authorities reviewed 207 unsolved murders of women since 1986, concluded that four unsuspected serial killers are stalking Britain and that 14 women may have died at their hands in the past six years. The 14 murders were subdivided into four "clusters" - each with with distinctive characteristics sugesting that four men were responsible.
March 27, 1999 - Efren Saldivar - A Superior Court lawsuit was filed against respiratory therapist Efren Saldivar by the estate and heirs of John N. Schwartz, an elderly man who died at the Glendale Adventist Medical Center hospital on May 31, 1993. Saldivar confessed to killing 52 hospital patients but then recanted. Authorities investigating the case have not uncovered any evidence corroborating the initial confession of the alleged "Angel of Death." Authorities said Saldivar confessed -- and later recanted -- to killing patients between 1989 and 1997 who looked "like they were ready to die"by suffocating them or giving them lethal injections.
March 26, 1999 - Dr. Jack Kevorkian - Suicide advocate Dr. Jack Kevorkian was convicted of second-degree murder for giving an ailing man a lethal injection and putting it all on a videotape that aired on "60 Minutes." It was the first time in five trials that he was found guilty. The jury took a day and a half to clear him of first-degree murder, which would have meant a mandatory sentence of life in prison without parole.
March 26, 1999 - Fernando Hernandez Leyva - Mexican police said a Cuernavaca man they arrested on charges of assault and kidnapping had confessed to killing more than 100 people. Jose Castillo, chief prosecutor of central Morelos state, told a news conference that police arrested Fernando Hernandez, alias "Pancho Lopez." Castillo said he was unaware of any criminal who had a more violent record in Mexican history.
March 26, 1999 - Ralph Harris - Serial killer Ralph Harris was was sentenced to death. for the August 17, 1992 slaying in Chicagos' South Side. In addition to the death penalty, Cook County Circuit Court Judge Dennis Porter -- who compared Harris to John Wayne Gacy -- sentenced Harris to 60 years in prison for trying to kill Patterson's brother and another 15 years in prison for robbing both men. Authorities believe Harris allegedly committed four murders in 1992, and two more in 1996 after he was released from prison.
March 24, 1999 - Mitchell Johnson & Andrew Golden - Marking the one-year anniversary of the jonesboro schoolyard massacre, 250 people attended a ceremony at the Craighead County Courthouse for slain students Natalie Brooks, Paige Ann Herring, Stephanie Johnson, all 12, and Britthney Varner, 11, and teacher Shannon Wright. Just after noon, the whole town of Jonesboro stopped what they were doing for a minute of silence in honor of the deceased.
March 24, 1999 - Mohammad Ismil Niaz - A Concord cabdriver arrested in the killing of a Pittsburg prostitute appeared in Contra Costa Superior Court but did not enter a plea. Police are trying to determine whether Mohammad Ismil Niaz might be responsible for any of the other unsolved prostitute killings in the area. As a cabdriver, Niaz may have had the opportunity to accost other women. Investigators with the Contra Costa County sheriff's office plan to question Niaz about the death of prostitute Valerie Schultz, whose body was found dumped on the side of city street on January 8.
March 24, 1999 - Jack Kevorkian - Ignoring the pleas of Oakland County Circuit Judge Jessica Cooper to have a lawyer defend him, Jack Kevorkian was prevented from presenting testimony about what he intended when he injected lethal drugs into the hand of a man who sought help in ending his life. Dr. Death, while conducting his own defense in his trial on murder charges in the death of Thomas Youk, 52, who suffered from amyotrophic lateral sclerosis, tried to call as a witness Youk's wife, Melody, but with the jury out of the courtroom, Cooper ruled that the Youks' intentions -- or Kevorkian's -- were irrelevant in a murder trial. Kevorkian admits to have helped more than 130 people kill themselves since 1990 as part of his crusade for the legalization of physician-assisted suicide.
March 24, 1999 - Jeffrey MacDonald - Former Army doctor Jeffrey MacDonald, whose murder conviction inspired the "Fatal Vision" book and movie, has insisted for years that a band of drug-addled hippies killed his pregnant wife and two daughters. Now federal court set ground rules for DNA testing that will (or not) back up his claim, 29 years after the three were bludgeoned and stabbed to death in their Fort Bragg home.
March 24, 1999 - Jeffrey Dahmer - The brother of one of Jeffrey Dahmer's victims was stabbed to death in his Milwaukee apartment in ritualistic fashion. According to a medical examiner's report, Ernest Smith body was "posed," with figurines placed around it and in his hand, sheets from pornographic magazines stuffed into his shoes and pants, and cigarette ashes put in an ear. The kitchen knife used to kill him was left in his body.
Smith's brother, 28-year-old Eddie, had been missing for more than a year before Dahmer admitted killing him. Carolyn Smith, sister of the two men, said Eddie's death plunged Ernest, a Persian Gulf War veteran, into a depression that led him to drink, and he had some brushes with the law. Following Eddie's slaying, the 45-year-old Ms. Smith said she had a series of nervous breakdowns and was diagnosed with post-traumatic stress disorder.
March 24, 1999 - Robert Rozier - New Jersey prosecutors charged Robert Rozier, a former National Football League player, with stabbing a homeless white man to death in Newark as a sacrifice to Yahweh Ben Yahweh, the leader of the black supremacist cult, the Temple of Love. Prosecutors said Rozier, 43, stabbed Attilio Cicala in 1984 as a sacrifice a few days before the cult's leader was to visit Newark. Rozier, who admitted killing seven people, presently is in jail in California on $1 million bail.
March 23, 1999 - Li Yuhui - A Chinese geomancer was sentenced to death for poisoning five Hong Kong women and stealing $150,000, the official Xinhua news agency said. A court in the southern city of Shantou sentenced Li Yuhui to death and confiscated his property after finding him guilty of murdering three Hong Kong women and two teenage girls in July.
March 23, 1999 - Mohammad Ismail Niaz - Police in Pittsburg, California, arrested Mohammad Ismail Niaz, in the death of 24-year-old Jessica Frederick, whose death along with four others sparked fears of a serial killer. Police, however, do not suspect Niaz, 51, in the other three slayings. The District Attorney's Office has filed a murder charge against Niaz, Frederick's former boyfriend.
Frederick's body was found on Dec. 5 in an industrial area on the northeast corner of Pittsburg. Her partially nude body had been stabbed and cut repeatedly, and her face battered numerous times. A black cord was tied around her neck. Her death was the second in a string of homicides that have confounded police and left residents fearful.
March 23, 1999 - March 22, 1999 - Ciudad Juarez Serial Killers - Police in Ciudad Juarez have found the battered body of a young woman dumped in a trash heap, adding one more victim to the growing list of unsolved murders plaguing their city. The unidentified young woman was found raped, beaten to death and discarded in a desert area used as a refuse dump near the border.
Police, meanwhile, continued to search for 25-year-old bus driver Jesus Manuel Guardado Marquez after a 14-year-old girl accused him of raping and beating her, and leaving her for dead in the desert. The 26-year-old driver operated a bus that carried workers to Juarez' foreign-owned maquiladoras factories. The girl told police she was the last passenger on the bus when the driver veered off the normal route, drove into the debris-filled desert and choked her until she fell unconscious. She said she awoke to find herself covered with blood and bruises from a severe beating. Because the method of attack is similar to other cases under investigation, authorities said they suspect that Mr. Guardado may be linked to some of the other slayings.
March 19, 1999 - Richard Arinaitwe - A Ugandan man who admitted killing eight people, including Maria Cecilia Goetz, a 35-year-old Minneapolis woman who worked as a programmer for East Africa Minnesota Information Health Volunteers, has been convicted of trying to kill the magistrate who took his confession. Richard Arinaitwe was convicted and sentenced to 48 months in jail for trying to strangle Kampala Magistrate Elizabeth Jane Alividza. The Ugandan court also found him guilty of trying to kill a police officer who came to Alividza's rescue.
After giving his confession to Alividza, Arinaitwe asked her for a glass of water. While her back was turned, he grabbed her by the neck and tried to strangle her. Arinaitwe said he was simply demonstrating how he killed his victims.
March 19, 1999 - Damien Echols - Convicted child killer Damien Echols is trying to get a new trial because he did not get competent defense form his first attorneys. Echols -- one of the West Memphis Three -- was convicted of the murder and mutilations of three 8-year-old boys. His new attorneys said that state medical examiners did a poor job of examining the victim's bodies and preserving evidence.
At the hearing Dr. Kevin Dugan, a forensics odontologist with the state Medical Examiner's Office testified that Echols' claim that the evidence was wrongly omitted from his trial was unfounded. The doctor added that autopsies on the victims revealed no evidence of human bite marks. Echols has claimed that the bodies bore bite marks and that no dental impressions were taken to be admitted at his original trial.
March 19, 1999 - Clay King Smith - An Arkansan jury deliberated for only an hour before sentencing Clay King Smith to death for the 1998 murders of five people. His victims -- including three children -- were shot to death at a mobile home in the Jefferson community, about 45 miles southeast of Little Rock. A detective who arrested Smith the day after the murders last March 26, testified that Smith had told him he had been using drugs when he killed everyone.
March 19, 1999 - Narit Burin "Archie" Bunchien - A man who claimed self-defense for gunning down four unarmed people in their parked car after one of them pounded on his door in the middle of the night and hit him was acquitted of murder. Narit Burin "Archie" Bunchien, 22, chased the visitor 70 feet down his driveway and pumped four to seven bullets into each of the victims, including a 15-year-old girl, outside his home in 1996. The night of the killings, Phong Ngoc "Nick" Nguyen, 21, had come to his door demanding that he apologize for jokingly calling the girl a prostitute.
March 19, 1999 - Possible San Luis Obispo Coed Killer - Police in San Luis Obispo say they've found blood at the apartment of the missing college student, as well as evidence of a forced entry. Twenty-year-old Aundria Crawford was reported missing March 12 after her mother in Clovis could not contact her by telephone. Police say the blood sample has been sent to a federal laboratory for analysis. Crawford is the third college student to disappear from the San Luis Obispo area in the past couple of years.
March 19, 1999 - Mark Profit - Despite a district court's mistake in joining a murder case with a criminal sexual conduct case, Minnesota's Supreme Court ruled it doesn't warrant a new trial for suspected serial killer, Mark Profit. In 1997 Profit was convicted of two counts of first-degree murder and one count of second-degree murder. During the trial, Profit also was convicted of second-degree criminal sexual conduct for attempting to assault another woman in the same park.
Hennepin County District Judge Peter Lindberg sentenced Profit to one life term on the murder charges and to a consecutive life term on the criminal sexual conduct charge. Profit had appealed the decision on several counts, including that the murder and assault cases should have been heard separately instead of in one trial. The Supreme Court agreed that the lower court should have separated the cases, but said the court hadn't acted prejudicially by doing so.
March 16, 1999 - Andrew Kokoraleis - The state of Illinois executed by lethal injection Ripper Crew cultist Andrew Kokoraleis for the 1982 strangulation murder of secretary Lorraine Borowski. Kokoraleis, 35, sighed three times, licked his lips and appeared to be speaking quietly to himself before he died.
March 15, 1999 - Corcoran Prison - In a security breach at Corcoran State Prison, serial killer Juan Corona was attacked and Charles Manson's guitar was smashed when three inmates slipped into a recreational area reserved for the state's most notorious prisoners.
The 65-year-old Corona, who suffers from dementia and usually paces the recreation yard mumbling to himself, sustained minor injuries. Manson scurried from the yard back into his cell block and was not injured. Three other inmates from the protective housing unit also suffered minor injuries.
Prison officials had returned Manson's acoustic guitar to him only a few weeks ago after he was caught using it to record music that was smuggled outside and sold.
March 15, 1999 - Aum Shinri Kyo - As the fourth anniversary of the deadly Tokoy subway gas attack approaches, there are signs the Aum Shinri Kyo cult is coming back to life. The group has been buying up houses and other real estate across Japan to set up new offices and meeting centers in what authorities describe as an ominous effort to re-establish itself. Police say members are once again preparing for the Armageddon, which according to Shoko Asahara, will be coming in September this year.
March 15, 1999 - Possible Itabuna Serial Killer - Brazilian police said they are hunting a serial killer who has tied up, raped and stabbed repeatedly four women before dumping their bodies in a field close to a motorway. Sergeant Marcelo de Jesus Bispo said officers found the four corpses in Itabuna in the northeastern state of Bahia, 282 miles south of the beach resort of Salvador.
March 14, 1999 - Andrew Kokoraleis - Letters from around the world have flooded Illinois Governor Ryan's office urging him to stop the execution of Andrew Kokoraleis, one of four members of Chicago's deadly Ripper Crew. Messages from the Pope and Chicago area religious leaders also pleaded with the Governor to cancel the scheduled execution. Barring any unexpected acts of clemency, Kokoraleis will be excuted by lethal injection on March 16 at the Tamms Correctional Center in Southern Illinois.
March 14, 1999 - Possible San Luis Obispo Coed Killer - Police in San Luis Obispo continued searching for Aundria Lynn Crawford, the third college student to disappear from the area in the last three years. The 20-year-old woman was last heard from earlier this week when she spoke with her mother over the telephone from her apartment.
March 14, 1999 - Possible I-45 Killer(s) - Over the last three decades the FBI has chronicled at least 32 dead women in an area a few miles on either side of Interstate 45 along the 50-mile stretch between Houston and Galveston. The latest victim was discovered several weeks ago by a little boy and his dog when they were out for a walk in some marshy woods. The dog came up with a bone, and then the boy saw a skull. Nearby, the police found earrings, shreds of clothing and a belt tied around a tree. Investigators believe the killer used it to bind the young woman while he was sexually assaulting her.
March 12, 1999 - Wayne Adam Ford - Confessed serial killer Wayne Adam Ford has been scheduled for a preliminary hearing on April 21 to determine whether there is enough evidence to warrant a trial. Ford, 37, confessed to killing four women in four different counties while working as a trucker. Authorities have discussed trying all four cases in one county under a new state law that allows consolidating the trials of serial killers. Deputy District Attorney David Whitney, who is handling the Ford case in San Bernardino County, said he will be filing death penalty charges on the San Bernardino and San Joaquin cases and may also be handling the Humboldt and Kern matters.
March 13, 1999 - Dr. Jack Kevorkian - Assisted suicide advocate Dr. Jack Kevorkian appealed the first-degree murder charge against him after hours after prosecutors dropped the assisted suicide charge against him. The appeal, which Kevorkian attorney David Gorosh said his client wrote and filed himself, also asks the appellate court to delay the trial, scheduled to begin March 22.
In his filing, Kevorkian contends that the Ninth Amendment ensures people the "right to end their suffering," Gorosh told The Oakland Press. Prosecutor John N. O'Brien called Kevorkian's filing a sham.
March 13, 1999 - Ciudad Juarez Serial Killers - The team of FBI psychological profilers investigating the Ciudad Juarez killings has concluded there is no serial killer at work in the area. "The team determined that the majority of cases were single homicides," said a statement issued late last week by the FBI in El Paso. "It is too premature and irresponsible to state that a serial killer is loose in Juarez."
March 12, 1999 - Juan Chavez - A Los Angeles man accused of murdering five gay men because he thought it would stop the spread of AIDS abruptly ended his trial by pleading guilty to the charges. uan Chavez, 34, avoided a possible death penalty by his change of plea. He is scheduled to be sentenced June 21.
March 11, 1999 - Cecil Jenkins - A homeless Indianapolis man, suspected in four murders and seven rapes in that city, was convicted in one rape case. Jenkins, 33, has already been sentenced to 130 years in prison for rape, kidnapping and being an habitual criminal.
March 11, 1999 - Gerard Shaefer - Jury selection began for Vincent Rivera, the convicted killer accused of killing serial killer Gerard Schaefer at the Florida State Prison. Rivera, already serving a life term for killing two people ten days apart in Tampa in 1990, killed Schaefer in his cell with a prison-made shank. Investigators say the inmates got into a fight over a cup of hot water.
March 11, 1999 - Shon Miller - In Louisiana, family annihilator Shon Miller kicked open the doors of a church, fired twice into the ceiling and ordered everybody to hit the floor. Miller then marched down the aisle, shooting between the benches as screaming parishioners scattered in horror. When the smoke settled, three were dead including his wife and son and four others were wounded. Miller, a homeless former welder, also gunned down his mother-in-law at her home a few blocks to the church.
March 11, 1999 - "El Depredador de Ciudad Juarez" - A team of four FBI specialists joined Mexican authorities in the investigation of the 200+ killing rampage in Ciudad Juarez. The experts from the FBI's National Center for the Analysis of Violent Crime in Quantico will be looking at such things as the time of day the slayings were committed, the ages of the victims and their social status. They will also visit the more recent crime scenes.
March 10, 1999 - Franz Fuchs - An Austrian jury convicted racist bomber Franz Fuchs -- Europe's answer to Ted K. -- of murder and sentenced him to life in prison for a series of letter and pipe bomb attacks that left four people dead.
March 9, 1999 - George Banks & Mark Spotz - Pennsylvania Governor Tom Ridge signed warrants for the execution by lethal injection of mass murderers George Banks and Mark Spotz. Banks, now 56, received 12 death sentences for a 1982 bloody rampage that left five of his children and eight others dead. Spotz, 28, was convicted of first-degree murder on March 4, 1996, for murdering 52-year-old June Ohlinger in February 1995. Ohlinger was killed during a four-county Central Pennsylvania crime spree in which Spotz killed four people.
March 9, 1999 - Nathan Dunlap - The Colorado Supreme Court unanimously upheld the death sentence of Chuck E Cheese mass murderer Nathan Dunlap. Calling the evidence against him staggering, Justice Rebecca Kourlis wrote, "In the final analysis, it is the horror of the crime itself that looms large in our (decision)... Dunlap killed four people and seriously wounded a fifth. He did it without provocation or cause, but rather with a brutal contempt for human life."
March 8, 1999 - Timothy McVeigh - The Supreme Court rejected Tim McVeigh's appeal for a new trial, claiming his previous one had been improperly tainted by a juror who prejudged his guilt and by news reports he had confessed to his lawyers.
March 7, 1999 - Charles Ng - The penalty phase for convicted serial killer Charles Ng trial began in Santa Ana with relatives of the victims recalling his crimes and asking for his execution. District attorney Peter Smith told the jury that asking for the death penalty for Ng was to "state the obvious." Meanwhile, prosecutors told Superior Court Judge John Ryan that they were unwilling to dismiss the 12th deadlocked count in last week's judgement and would probably ask for a retrial.
March 7, 1999 - Gerald Gallego - A competency hearing was set for March 22 to determine the mental state of Gerald Gallego, a Sacramento serial killer whose Nevada death sentence was overturned in 1997. Gallego, now 52, has been undergoing a court-ordered evaluation by doctors since exhibiting bizarre behavior at a penalty-phase retrial hearing in November.
March 7, 1999 - Andrew Cunanan - Journalist Maureen Orth writes in her book, "Vulgar Favors," that Versace had been diagnosed as HIV-positive before he was gunned down by Andrew Cunanan. Orth learned of Versace's medical condition from Miami Detective Paul Scrimshaw, who reviewed the designer's autopsy results. Scrimshaw theorized that Cunanan killed Versace because the designer had infected Cunanan with AIDS. That theory was discarded when the killer tested negative for HIV.
March 7, 1999 - Robin Gecht - David A. Gecht -- the son of Ripper Crew killer Robin Gecht -- together with three other men were charged with a gang-related murder in Chicago. Robin, daddy dearest, is presently serving 120 years in Menard Correctional Center for mutilating and raping an 18-year-old prostitute in 1982. He was the leader of Chicago's infamous Ripper Crew who murdered up to 17 women in the early 80s.
March 5, 1999 - Wyley Gates - As a teen, Wiley Gates calculatedly murdered his father, brother, 3-year-old cousin and father's girlfriend. Now, thirteen years later, Wyley was up for parole and failed to show up. His next parole date will be in 2001.
March 5, 1999 - Helsinki Gun Club Massacre - Inspector Kari Tolvanen told Reuters that Finnish officers watched a dozen episodes of "The X-Files" and other series while investigating the Helsinki gun club massacre. "We are looking at certain television series because of what we found in a search of the suspect's home and because of what she has said and how she has behaved," Tolvanen said.
The bizarre rampage took place during a weekend when a marathon of 12 episodes of "The X-Files" were shown on Finnish television. Finnish newspapers drew attention to one episode in which inhabitants of a small town went on a shooting spree after being hypnotized via electronic devices such as cash dispensers and microwave ovens.
March 4, 1999 - Spokane Serial Killer - A human hand found by a dog in the woods south of Snolqualmie, Washington, led authorities to the discovery of the skeletal remains of Jennifer Diane Justus. Though her profile is similar to the victim profile of the Spokane Killer, authorities believe she is not the killer's 11th victim. The dog's owner, Joe Rohrbach, found the mostly decomposed hand in his dog's food dish. The dish had been set in an outside carport at Rohrbach's home.
March 4, 1999 - Mark Anthony Duke - A Shelby County Circuit Court jury in Alabama needed less than 35 minutes to find 17-year-old Mark Duke guilty of four counts of capital murder. Duke was convicted in the March 23, 1997 murders of his father, Randy Duke, 39; the elder Duke's fiancee, Dedra Mims Hunt, 29; and Ms. Hunt's daughters, 7-year-old Chelsea Hunt and 6-year-old Chelisa Hunt.
March 4, 1999 - Cheryl May - A Fort Wayne, Indiana, prosecutor dropped a murder charge and agreed to end three other homicide investigations linked to an alleged "death angel" nurse at a Fort Wayne nursing home. As part of a plea bargain, 33-year-old Cheryl May pleaded guilty to criminal recklessness and admitted injecting a 69-year-old man with an excessive amount of morphine. She also forfeited her nursing license.
March 3, 1999 - Abdel Latif Sharif - Egyptian national Abdel Latif Sharif -- suspected of raping and killing 17 women in Ciudad Juarez - was sentenced to 30 years in prison after being convicted of one murder. Sharif was found guilty of the rape and murder of 18-year-old Elizabeth Castro Garcia in 1994. The former chemist has maintained his innocence since 1995 when he was first arrested and accused of being a serial killer.
March 3, 1999 - Killer Rum in Brazil - Rum contaminated with a toxic chemical killed 11 people and left 13 sick in a northeastern state of Brazil. The rum, containing methanol, came from a clandestine rum production plant in Iguai, a town in Bahia state. The head of the production plant, which opened two months ago, has fled the town.
March 3, 1999 - Possible Vancouver Prostitute Killer - Though they have no bodies or hard evidence to back their claims, prostitutes in one of Vancouver's poorest neighborhoods suspect a serial killer is responsible for the disappearance of more than 20 sex-trade workers since 1995.
March 3, 1999 - Anatoli Onoprienko - Dressed in the same track suit and drab duffel coat he has worn throughout the more than three months of hearings, Anatoly Onoprienko, 39, sat impassively in a metal cage at the front of the Ukrainian courtroom and refused his chance to speak at the end of his trial. Onoprienko's co-defendant Sergei Rogozin, accused of helping in the first nine murders, did jump at the chance to speak and proclaimed his innocence.
March 2, 1999 - Robert Shulman - A Suffolk County Court jury convicted serial killer Robert Shulman of first-degree murder in Long Island's first capital murder case since a new death penalty law was enacted. Shulman, a 44-year-old former postal worker from Hicksville, was found guilty of murdering and dismembering three prostitutes in 1994 and 1995.
March 2, 1999 - Cecil Jenkins - The trials keep stacking up against Cecil Jenkins, the Indianapolis convicted rapist and suspected serial killer. Jenkins was sentenced to 130 years in prison for raping and abducting a 24-year-old woman last April. He is still facing another rape trial and two murder trials.
March 2, 1999 - Charles Manson - Having worn many different hats -- serial killer, mass murderer, the god of fuck, cult leader -- Charles Manson is ready for a new role in life; college professor. That's right, Charlie will be assisting professor Robert Beattie with a class about the U.S. legal system at Newman University. Beattie, who teaches political science, asked for Manson's help in re-staging the trial in which he was found guilty of the bloody 1969 killings of actress Sharon Tate and six others in Los Angeles. "I have 50 years of experience in incarceration," Manson told Beattie in a taped conversation. "I pretty much have a leg up on the law from an underworld perspective."
Sandi Gibbons, a spokeswoman for the Los Angeles County District Attorney's Office, said Manson has volunteered to help students before. "He likes to interact with young people," she said. "He thinks he can pass along something to them." Sure he does, and we all know what happened the last time he had full access to our nation's youth.
March 2, 1999 - Charles Pierce - A few weeks before Charles Pierce died, the convicted child killer confessed to killing two more children in Lawrence, Mass., more than 40 years ago. During an almost two-hour interview, in which he sometimes fell asleep or became confused, the former carnival worker provided the location of where the children's bodies and other details about the slayings.
March 1, 1999 - Robert Shulman - Attorneys are making their closing arguments in the case of Long Island postal worker Robert Shulman. He's accused of the serial murders of three prostitutes whose body parts were found in dumpsters on Long Island, Brooklyn and Westchester County. The prosecution says it's a simple case and that Shulman even confessed when arrested. The defense says Shulman was coerced and was trying to protect his brother who they say is the real killer.
March 1, 1999 - Theodore J. Kaczynski - Though previously reported in the Archives, the mainstream press is abuzz with the pending publication of the long-awaited follow-up to Teddy K's 1997 anti-technology rant. In his new book, titled "Truth Versus Lies," Ted denies being mentally ill, refuses to acknowledge that he is the Unabomber, and compares his brother to Judas. "My brother is another Judas Iscariot, except that, unlike the original Judas, he doesn't even have enough courage to go hang himself."
Jan-Feb, 1999 - Morgue Archives - For previous entries to the Morgue check in the casualties filling the archives.